I'm a little late to the game, but here are my favorite products from 2015!
If you are interested in seeing my past favorites, I have done an annual roundup for 2014, 2013, 2012,2011, 2010, and 2009.
All links go to my reviews.
Best foundation: L'Oreal True Match Super Blendable Makeup 
I picked this up because of all the great reviews online. I love how the finish looks very natural!

I really do not like the packaging, though, so I put it in an airless pump bottle that I got at Daiso (a Japanese dollar store).  This is another great find and I have been putting all of my foundations into these pump bottles.
Best high end mascara: Tarte Lights Camera Action mascara
Wow, I never thought I would find a high end mascara that I thought was worth the price. This mascara made it look like I had more eyelashes than I actually did.
Best drugstore mascara: Maybelline Volum' Express Pumped Up! Colossal mascara
This mascara delivered on all the things I need – fuller lashes, good separation, and no transferring under my eyes. I even tested this during the summer, and it lasted throughout the humidity!
Best eyeshadow: Barry M Dazzle Dust in Rose Gold 
I found out this past year that I look good in rose gold! I loved this eyeshadow and I went through an entire pan!
Best makeup product that I never thought of: Daiso Eyeliner coat
This is a liquid that you put on top of your eyeliner to prevent it from transferring. It has been life changing for me! Previously, I could never wear eyeliner on my lower lash line without having it transfer or disappear within a few hours. With this product, my eyeliner lasts and lasts.  I have never seen a similar product from any other brand!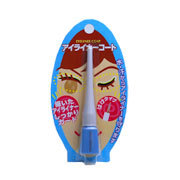 Best eyeshadow primer: Milani eyeshadow primer
This is definitely the best eyeshadow primer out there. Most other eyeshadow primers are too oily for my lids, but this one makes my eyeshadow last all day. I also love that it is in a squeeze tube, and that it is so affordable.
Best high end lipstick: Make Up For Ever Rouge Artist Natural N9
This product was from the 2014 Sephora birthday gift, and I found that it really worked great for my lips. The color gave my lips a natural flush, and unlike most lipsticks, it did not make my lips peel.
Best drugstore lipstick: Revlon Lip Butter in Pink Truffle
This lipstick gives my lips a slight tint – which is just the thing I wanted when I did a more dramatic eye look.
Best Perfume: Estee Lauder Bronze Goddess Eau Fraiche
This is a limited edition fragrance that comes out every summer. I finally got my hands on it, thanks to a good friend. The scent reminds me of vacations in the tropics.
Best new hair tool: Sparkly Soul Headbands
2015 was the year when I started running outside.  A good friend suggested these headbands when I was looking for something to keep my hair out of my face. They really do not move!
Favorite hair product: Lush Sea Spray
After cutting my hair shorter at the end of 2014, I have been enjoying salt sprays for my hair to give it a carefree, tousled look. Salt sprays are a little difficult to find in Japan, but I have had good luck with this one from Lush.
Favorite new makeup tool (tie):
Real Techniques Miracle Complexion Sponge
I bought this product solely for the purpose of reviewing it – and I fully intended to say that the original Beauty Blender was much better. However, I found that I am really loving this! The flat surface makes blending foundation easier than with a round surface, and the softness is the same as the original Beauty Blender.  What a steal at $10!
I bought this brush because it was so liked on Youtube, and I found that it works great for cream blushes. Unfortunately, I quickly destroyed my first brush, so thankfully a friend helped me to buy a new one!
In general, I have better luck with eye brushes than with face brushes. For some reason, it is hard for me to find a blush brush that works for me, in terms of color placement, blending, and how it feels on my skin. A friend recommended me this brush, and I really love it!
Favorite new body product: Lush Love Soap
I bought this to support same sex marriage, just after the landmark decision in the US. The soap turned out to be fabulous – a great scent and great lather. I wish it were permanent!
Hope you enjoyed my 2015 favorites!
xoxo, K